A couple weeks ago, I found an email in my inbox saying I had $20 to use towards books. Sent from a major Canadian bookseller, the email looked legitimate but I was still a bit  dubious (were they really just giving away books of our own choosing?), and so I read the fine print. Sure enough, I could use this gift on practically anything in the store or online from this bookseller. I just had to do so before the end of January.
The days passed as I tried to determine what I would buy. I don't often buy books new, and even less often do I buy them at full price. And so, in my mind, it needed to be the perfect book: something special, something I wouldn't have bought otherwise. There was just one problem: I had no idea what to buy.
You would think it would be an easy task: getting a bibliophile use a mere $20 on the book of her choosing. I don't know if you've ever been in this situation before, but I will tell you, it's not envious.
Rarely do I get a chance like this, and I didn't want to blow it. I was convinced that there was a book out there, just waiting for me. But what was it? And, what if I bought the wrong book? The stress was intense.
Of course there were myriads of books I wanted to buy. But I could not think of a single one of them!
There was that personal essay that I'd read and really enjoyed . . . maybe I could track down the collection in which it was originally published! Now, if only I could remember the name of the essay, the essayist, or the collection!
After awhile, I let that one go, and started going through files on my computer, searching for any lists I'd made with titles like, "Books to Buy." I consulted various "wish lists" I'd previously made on websites that sold books. All to no avail. My lists were actually quite sparse, and what was on them did not seem relevant.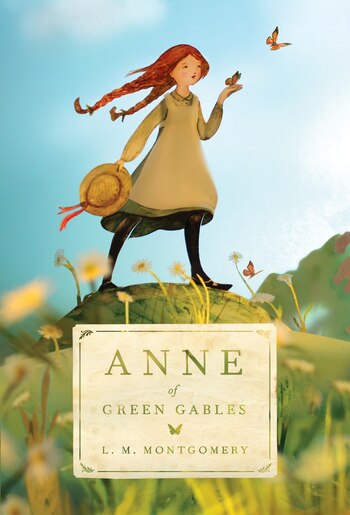 The clock was ticking, and I told my husband of my predicament. Knowing that I already have twelve editions of Anne of Green Gables, he asked if there was a new one I didn't already own but might like. Now, there was that graphic novel of Anne that I'd seen last year . . . and that new edition from Tundra that was tempting, solely for its beautiful cover illustration. I'm actually not sure if my husband was teasing me or not when he asked that. But I answered quite seriously and definitively No.
You see, I was in the mood for something new — not collectable — something that I would read, something I'd not read before.
I went to my newly organized office for inspiration, and sat down, looking at my walls of shelves upon shelves of books.
As I did so, I realized there were dozens of them I'd bought and not read, several L.M. Montgomery books among them. They were all must-haves at the time; and yet, there they sat, still unopened, on my LMM shelf. Anne's World: A New Century of Anne of Green Gables, a collection by Montgomery scholars which I'd bought at a LMM conference; The Landscapes of Anne of Green Gables by Catherine Reid who had signed my copy personally; and, the recently released and long anticipated A Name for Herself: Selected Writings, 1891-1917, a collection which included some of LMM's creative nonfiction, edited by Benjamin Lefebvre.
I considered buying the follow-up to A Name for Herself, which was A World of Songs: Selected Poems 1894-1921 which had been released only days before. But would I really read it, I asked myself critically, if I hadn't even read her nonfiction? Besides, in order to match the previous one, I'd want to buy this one in hardcover, too. And that was retailing at over $60, three times my budget.
As if he'd known my thoughts, my husband asked, "Are there any books you don't have by another author that you might like?" I looked at him hard. "What do you mean by, 'anther author'?" I asked? "I mean someone other than L.M. Montgomery. Who else would I mean?"
I mentally scanned my shelf of British literature. Thomas Hardy, Elizabeth Gaskell, the Bronte sisters . . . I pretty much had the titles I wanted from them all. And I guiltily looked at my creative nonfiction shelf. There were handfuls of titles I'd not yet read . . . would I really read a randomly selected one now?
After awhile, I asked my husband — and couldn't believe I was doing this — if there were any books he might like. "I'll be back," he said. "Where are you going?" "To look at my bookshelf." As he left, I knew it would be futile, given my own experience of going to my bookshelf for ideas. All it does is muddle you, realizing how many there are that you have not read. And it gave me time to begin regretting my generous offer.
In the interim, I found several books online that, perhaps were not the one, but would do just nicely. I found myself putting some books in my online basket and buying them, just to see what would happen, I told myself. Nothing. A red message coming up, saying the books did not qualify.
I read the fine print of the promotion again. It said it could not be combined with any other offers. I looked at those books I'd attempted to purchase. All of them had been on sale . . . some of them only by $0.50, but still, on sale. Perhaps that's why they didn't work.
When my husband returned, he had a few ideas, and I looked them up. One of them he already had a copy of. "Why would you want to buy another one for?" I found myself saying to him, incredulously . . . as if I didn't have my own dozen Annes sitting right there. The others he was interested in were all on sale.
In desperation, I returned to the internet once again, and found myself typing in the search bar, "If you could buy only one book, what would it be?" But I left before I'd found any of the answers. Was I really asking Google?
I searched the bookseller site. Almost all the books were on sale (by a dollar or two)! Would I never find one that night, before my time ran out?
It was almost midnight, and my time would soon be up. I had been at this for hours. My husband stayed up with me as I frantically tried to find something — anything — that I could buy. I settled on three very inexpensive, practical books — none of them one sale — and at 11:59 p.m., put in my promo code.
And . . . nothing. I got the same red message saying the books did not qualify.
I went to bed, exhausted, but also laughing at myself. I'd spent several hours stressing over which free book to buy, and in the end, it hadn't worked anyhow.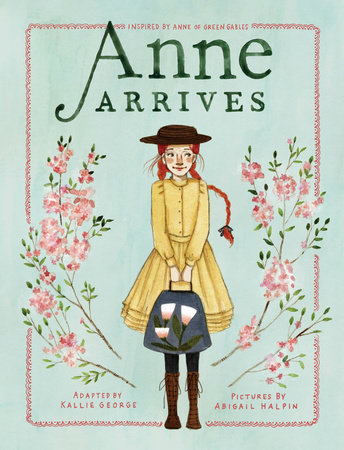 The next day, I woke up to realize that it was January 31st . . . I still had one more day until the promotion ended! I went over to the local bookstore this time, with the same anticipation of finding the perfect book, and walked the isles (after confirming with the cashier that the $20 could actually be used in store). Back and forth, back and forth I went. I was beginning to doubt my methods of selection.
And then! I saw the book I was looking for (or it found me!): Anne Arrives by Kallie George. I promptly purchased it and went home, happy.
It fulfilled my desires of a new book: it had a beautiful cover, I'd not read it before, and it had fairly jumped off the shelf at me. It was only in retrospect that I realized that I'd inadvertently bought my thirteenth copy (adaptation though it may be) of Anne of Green Gables, after all!
Question: How would you go about selecting a free book?