I recently returned from the 2018 L.M. Montgomery biennial conference in Prince Edward Island, where I presented a paper on "Reading Montgomery and the Personal Essay." (You may have wondered about my long absence from this blog – completing the paper consumed pretty much all of my "spare" time for the past few weeks.) The conference was a great success, I presented my paper, and am now back at home with my blog and the realization I've not posted in a month and a half. I'm intending to get on a regular schedule for it once again.
At the conference, there was a particular paper that I found absolutely fascinating by Margaret Mackey, who is a Professor in the School of Library and Information Studies. In her paper, she looked at how the ways we read are influenced — among other things — by our literal place and community and context of reading. She couched her remarks in theory and framework, and it struck me as I heard her own particular experience with reading, that she was in fact inviting us to reflect on our reading (not dissimilar to how reading a personal essay invites us also to contemplate our own experiences). I enjoyed her paper so much that I bought her book, perhaps the only one that was not explicitly P.E.I.- or L.M. Montgomery-related (like the beautiful edition of Anne's House of Dreams newly published by Tundra Books) on a long table outside the lecture hall.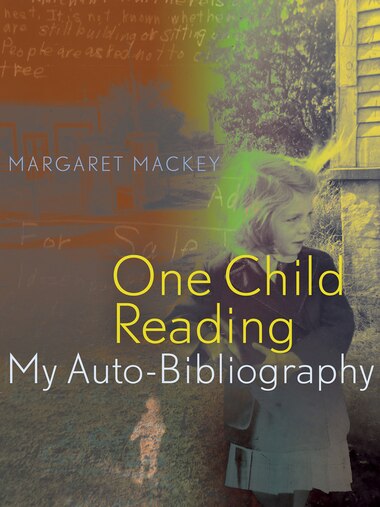 Mackey's book is called One Child Reading: My Auto-Bibliography, and along with detailed theoretical framework, it considers her own childhood "literacy" (how she learned to read) by re-looking at the materials she read (not just books but also more ephemeral things like Sunday School programs) and also different mediums than print (she talks about radio, television, sheet music, and the singing and piano playing her parents did together after she went to bed). A large part of what she's talking about is centered on the idea that place is extremely important for literacy, how we learn to read: we bring different experiences to our reading depending on where we are reading, especially as a young child growing up. For Mackey, this was St. John's, Newfoundland in the 1950s, where her access to books was limited, causing her by necessity to read, for instance as she said in her paper, almost all of the books in the "Anne" series by L.M. Montgomery out of order, depending on whenever she happened to get hold of another one.
After the conference, my little family packed up our things and settled down in a campsite on the Island for a few days, one with a long grassy hill sweeping down to a slight cliff and a sandy beach that stretched in each direction as far as I could see. A few wind-swept trees dotted the open space, and one tree close to the cliff had evidently fallen off when the red earth beneath it crumbled to the coast. It was in this setting that I dove into reading Mackey's book – one of the first ones I've read in weeks (or was it months?) that didn't directly relate to research for my paper.
As I read Mackey's book, I started to see not only the importance of reading and place as I thought about my own childhood where most of my reading was done in transit (in a car, driving into and back from town), but also place as a metaphor for reading. Yes, as I turned the pages, I couldn't help but associate my own reading of her book (about the importance of place and reading) with where I physically was reading it. I had been to this particular campground twice before this, each in very different circumstances. Over the conference, I had been thinking a lot about re-reading books (after all, Montgomery herself did this many times) and it struck me that this return to the landscape felt like the re-reading of a book.
Of course, there are some obvious differences. One is that places inevitably change. Texts do not. I've now been to the campground three times, and the second time especially that I came back to it, I experienced a sort of odd sensation of returning, not just to a place, but to a previous time. I'd expected to see a bunch of tents on the hill (I suppose that's what it had looked like the time before), and was surprised to find it almost entirely deserted. More significantly, I think I somehow expected to step back into the self that I had been at the time in my life when I'd visited there before.
Perhaps the same is true with our re-reading: when we pick up a book, we expect to find it — and perhaps more significantly ourselves — as we left it. Certainly, as I've re-read books, like those in L.M. Montgomery's Emily of New Moon series, I found myself being reminded of previous times in my life during my re-readings. And yet, books – like landscapes – are not exactly how we left them. As Virginia Woolf wrote, "Even things in a book-case change if they are alive; we find ourselves wanting to meet them again; we find them altered" ("The Modern Essay").
Seeing a place again, we can't help but comment on the differences we find with it. When I came to the campground this third and recent time, the landscape didn't seem to have changed at all (though of course this is not true – it was several years between each time I went: change is certain). The trees were taller; some of them had inevitably fallen off the cliff. The essentials were the same though, I convinced myself: the openness of the land, the sky, the sea. But as I looked out to the sea one evening, I realized that it was necessarily in constant flux. No place is precisely the same when we return as when we leave it. And no text is, either. And while we perhaps project some of this change onto the landscape itself, when we re-read a book, we know that all of the change that we find in it is interior: within ourselves.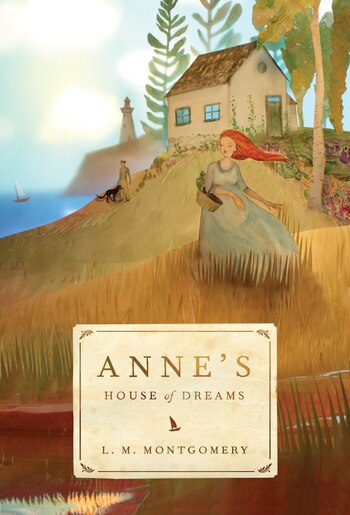 At the campground overlooking the ocean, I found myself wishing more than once that I had went ahead and bought Anne's House of Dreams and was instead re-reading it. (I notice only now as I look up the cover that its picture is strangely similar to the landscape I was temporarily inhabiting – that sloping hill down to the cliff and the ocean.) Though I'd read the book before, I realized that I'd never done so as an adult, and certainly not since my own marriage. I wondered how reading it now, with different experiences and life changes, would affect my re-reading of it. And somehow, it seemed appropriate to mark this new reading with buying a new edition, rather than return to the mass market one I'd bought as a child.
But instead, I immersed myself in a nearly six hundred page, theory-dense tome about the experience of reading, and considering my own reading. Though a re-reading of Anne's House of Dreams seemed a much more appropriate book for a vacation, I don't think I would have arrived at the connection between re-reading and returning to a place in quite the same way without reading Mackey's book, specifically, there.
Question: How has place influenced your own reading?